Items for sale
Striking take on a cane style child's chair. For sale at £60
This small cane chair came to us in a poor state - so we decided to do something quite different with it. We sprayed the frame and cane work in metallic pink and then gave it two coats of clear sealer to prevent chipping. We then applied matching Moons fabric to create a striking piece. Perfect for a little princess for a bedroom or playroom - or even pride of place in a conservatory.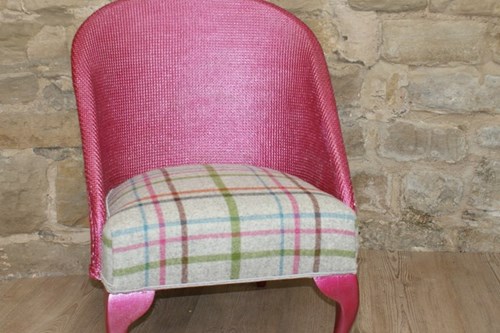 Vintage 2 seater sofa fully restored and covered in a heavyweight velvet stripe. For sale at £695
This sofa was bought from an elderly lady in Marsden many years ago and was stripped to the wood frame and then totally rebuilt. We can't begin to list the many hours of work have been dedicated to this item of furniture but the end product is worth the effort. The top cover is a modern take for a traditional piece and, like many items of furniture, some people will love it and others....well they won't.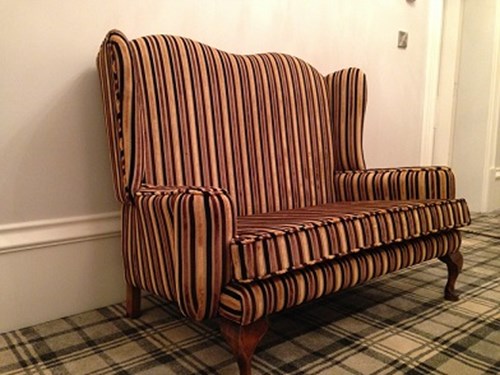 Hookboards - perfect presents for Christmas
We supply a range of hookboards for coats and other items - in different sizes, in a range of fabrics and with different numbers of hooks - 2, 3, 4, or 5. The hooks are all top quality cast iron hooks and the fabrics are either Sophie Allport, Abraham Moon or Art of the Loom. Prices start at £20 for the small 2 hook boards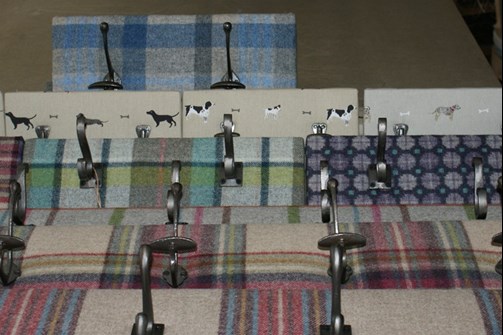 Feather filled cushions - different sizes and materials
We are offering a range of feather filled cushions finished in either Abraham Moon or Liberty Print and with plain velvet backs or herringbone pattern wool back. 
Sizes are 14 inches, 18 inches, or 20 inches and prices £25, £35 or £45.