Items for sale
Vintage 2 seater sofa fully restored and covered in a heavyweight velvet stripe. For sale at £395
This sofa was bought from an elderly lady in Marsden many years ago and was stripped to the wood frame and then totally rebuilt. We can't begin to list the many hours of work have been dedicated to this item of furniture but the end product is worth the effort. The top cover is a modern take for a traditional piece and, like many items of furniture, some people will love it and others....well they won't.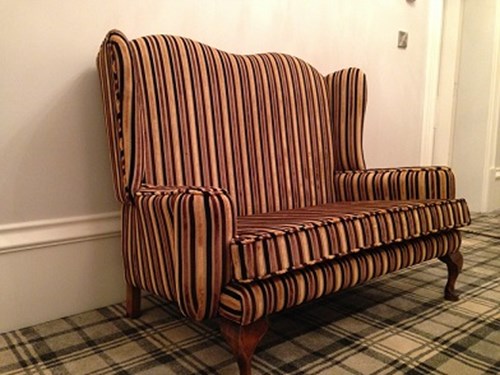 Feather filled cushions - different sizes and materials
We offer a range of feather filled cushions finished in either Abraham Moon or Liberty Print and with plain velvet backs or herringbone pattern wool back. 
Sizes are 14 inches, 18 inches, or 20 inches and prices £20, £30 or £40.